Login
Log in if you have an account
Register
Having an account with us will allow you to check out faster in the future, store multiple addresses, view and track your orders in your account, and more.
Create an account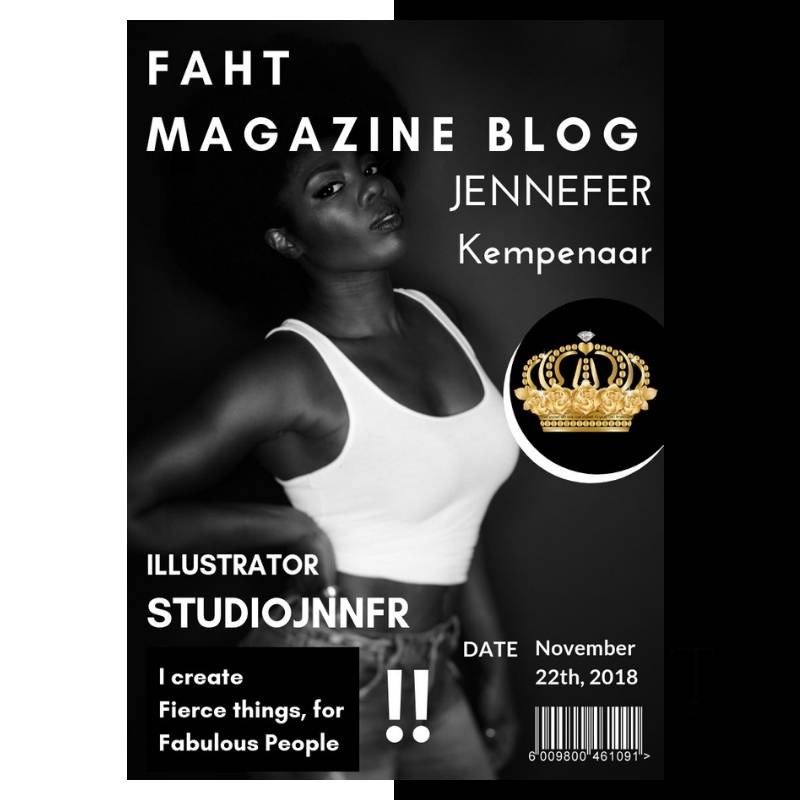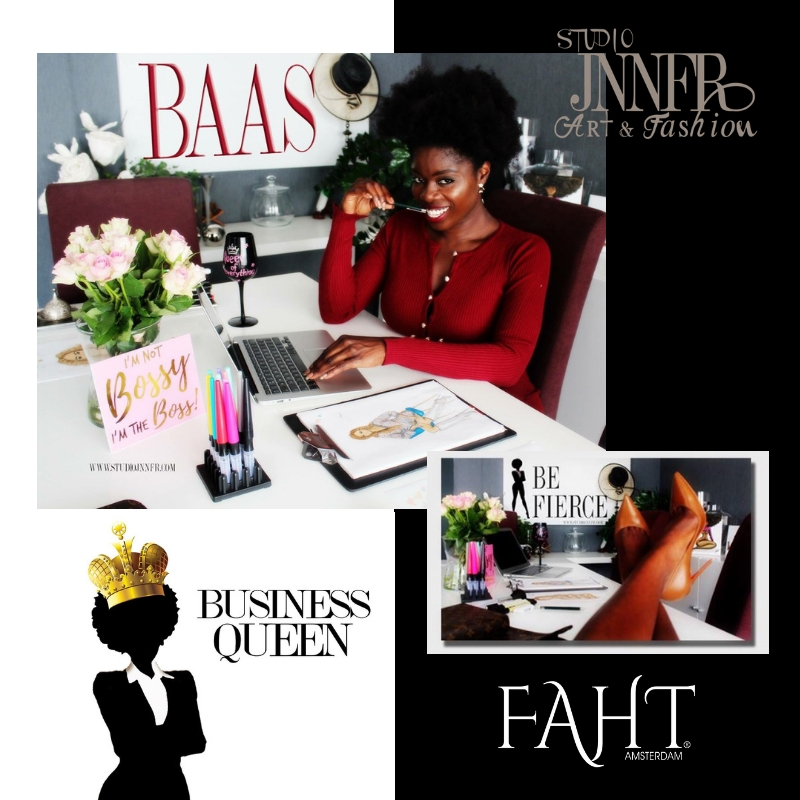 HI QUEENS,
My name is Jennefer Kempenaar. I am 40 years old and of Surinamese descent.
ABOUT ME
I call myself a creative person. My core business is graphic design / illustration and a combination of that. I also work on painting (murals), fashion designs, creative workshops, photoshop, illustrator (programs Adobe creative suite) etc.
I have been a creative person all my life and I think it's a blessing that I can do what makes me happy and what I'm good at. I think it's great to make people their idea or vision concrete(that can be private individuals and / or entrepreneurs) on a visual image. Images or illustrations to make their company appearance / house style etc. concrete and complete. I take great pleasure in helping people and contributing to the visual creative process of their idea.
But I also get to visualize assignments such as birthday cards, wall paintings, clothing collections on paper, etc.
HOW I BEGAN
I worked in the fashion industry for 20 years. 5 years ago I had to face the choice to take care of my grandfather (who also took on the role of my father). 24 hour informal care. I did this with a lot of love, but that did not give me much room to work externally for an employer. I then decided to use my other skills. After all, I had the diplomas in the pocket and a good working computer. I only had no experience with it.
At the time that I took care of my grandfather I had the space to develop myself there and I got small assignments, within my network. A logo here, an illustration there. Admittedly small amounts, but oh so Powerful. I knew this was what I wanted to do and that I was good at it. I gained more customers within a year.
I worked on my skills a lot in the night, to get better and better and when my grandfather died, I decided to expand this and start for myself. It was not easy, but it gave me a lot of distraction.
 My grandfather had Alzheimer's and I did not dare to sleep in the night because he sometimes fell out of his bed. That's why I had my desk close to his bed so I could keep an eye on him. In the end it all happened automatically. I have made mistakes and learned a lot, but that is also the 'trick' of doing business. Taking risks and knowing better, what works for you and what does not. It is a great adventure. However, I believe that by being positive in life and never giving up, I have achieved what I am today. I am not yet where I want to be, I still have the biggest ideas and plans! My clients motivate and inspire me too, to look further than what I am doing now.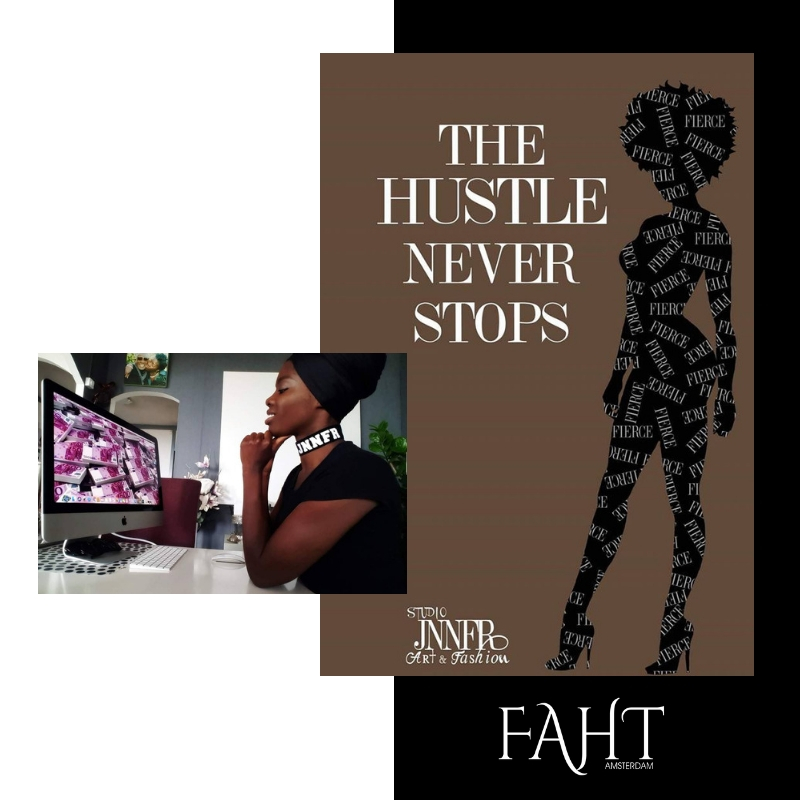 DO I HAVE TIME FOR MYSELF
I have to make time for myself! I have no children and no man. But because of this there is the danger that I am only working and that I am not making room to achieve the above facts. (No time for dating, etc.)
On the other hand, it is wonderful that that I schedule my own agenda, that I don't have to work for a boss, I don't have to justify myself to others and that is a relief.
There comes a lot when doing business, it is often underestimated. It is just like a child I think, it takes over your life and there is no other option. Except if you do not feel like it anymore. When you start doing business, you have to go all out and be willing to give up things for it. Entrepreneurship also costs money, it also takes a while before you can put money in your pocket. Entrepreneurship also costs you, your sleep, Girl... What is sleep? I only sleep 5 hours a night, on average. I have to force myself to take a rest, it never stops.
I am currently on holiday in Turkey, and everything goes on and on. That is why it is really important that you do something that makes you happy, you find your passion in because only then will you find it worth your while to give everything for it.
MY TARGET GROUP
I had no target group in the beginning, I was already happy that I got an assignment. But it has now turned out that mainly female entrepreneurs know how to find me, because my design style appeals to them. They want something different, they want something fierce and that is possible at JNNFR, I always go for that 'just a little EXTRA'! And how glad I am that they know how to find me! I have found my target group, that is a blessing. I really enjoy hearing what women are doing and that I can make a small contribution, for example, a strong logo, company images, flyers, business cards, banners, house styles, wall paintings, clothing collections, etc. We talk about what the possibilities are and exchange ideas and tips. That is growth, together we grow and that is a great gift!
WHY "StudioJNNFR" AND WHERE CAN YOU FIND ME
I create fierce things for fabulous people. There are a lot of creatives, but people come to me for my unique fierce style. I take the time to get to know the customer and what her wishes, target group and mission is. Women who come to me want that extra bit and think big.


You can find me at:

www.studiojnnfr.com
https://www.facebook.com/StudioJNNFR/
https://www.instagram.com/studiojnnfr/
What does 'fierce' actually mean?
F.I.E.R.C.E means: Fabulous Inspirational Empowered Remarkable Creative Energy 

So, now you know. If you want this for your business...
You know where to find me. I am JNNFR, and...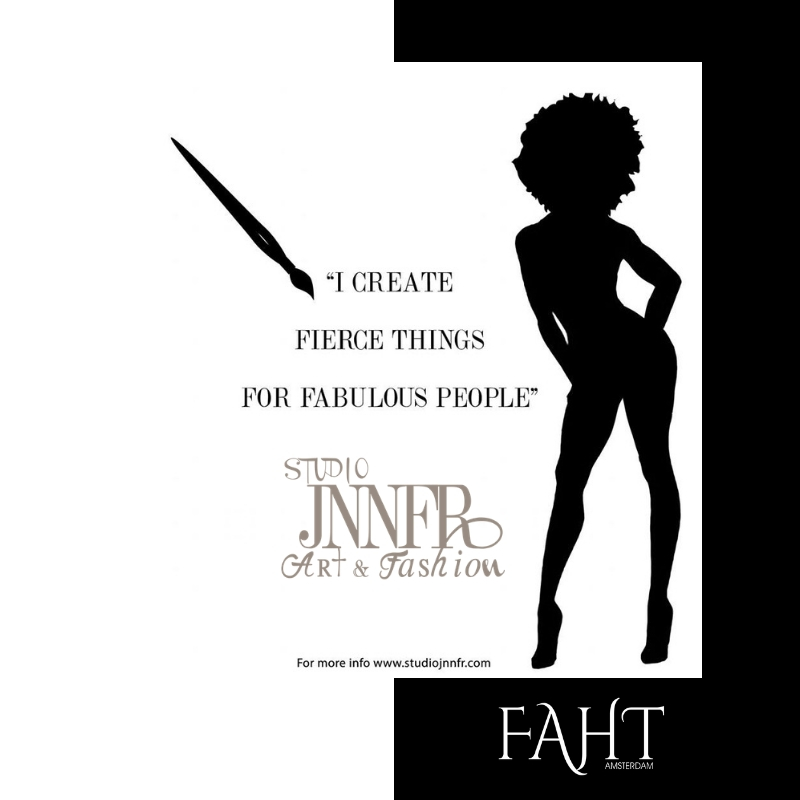 One Love...
Leave a comment